In my recent travels, I was fortunate enough to visit Biltmore Estate, owned (to this day) by descendants of George Vanderbilt, who originally owned it. While one can go one for pages and pages about the beauty, ingenuity and wonder of the estate itself, all I am going to say – visit if you can. It is the only structure in the United States that can rival European castles in its beauty. It is set in the mountains of North Carolina, and it is the most impressive piece of architecture you will see on this side of the ocean. Unless you are more into skyscrapers, of course. Everything, including the grounds and the contents of the house – from floor to ceiling is a work of art. It is also a stunning example of early use of electricity and plumbing.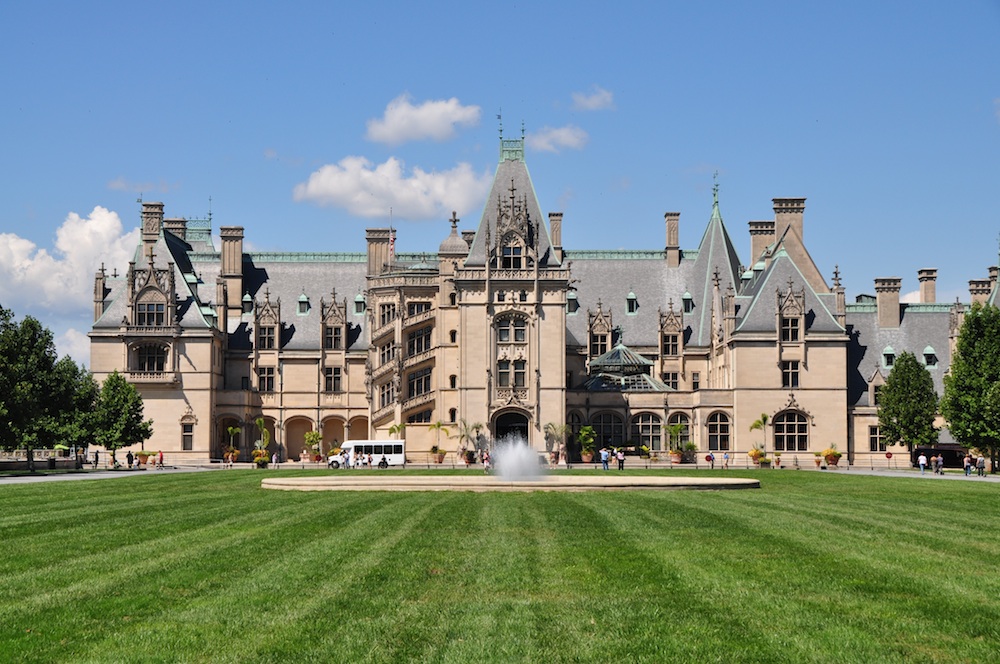 But as I said, this blog entry is not about the estate itself. Among many captivating works of art at the estate are probably the most interesting set of stained glass windows I have ever had the privilege of viewing in person. These windows were originally made for Vanderbilt's New York house in 1881 by John La Farge and later transferred to the estate. These are among the last surviving stained glass windows by the artist. There are several windows now residing in the estate winery, and the one featured below is currently displayed in the Vanderbilt museum exhibit.

At the time they were the most innovative stained glass windows one can ever find, because La Farge was the first person to EVER conceive of using opalescent glass in windows (!) Before that opalescent glass was used strictly for tableware, and John La Farge had to pay a local glass manufacturer to custom-make opalescent glass in sheets for him to use. If you are a stained glass connoisseur or a stained glass crafter, you may be amazed to learn that these intricate window panels have NO Tiffany (or copper foil) in it. The entire piece is leaded with the thinnest lead I would ever have dared of using and I do not even want to imagine the hours it took to bend that came around the tiny glass pieces.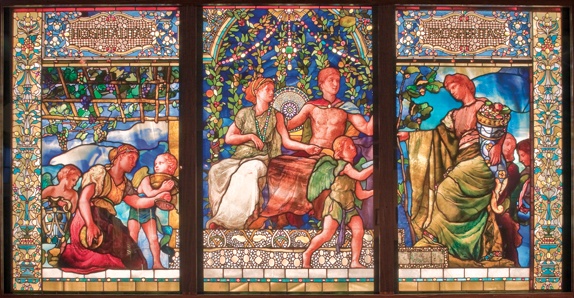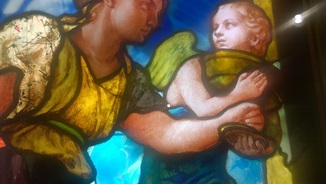 Not surprisingly however, La Farge did inspire Tiffany to go one with his research to find easier ways to create complex panel such as this, and that it when the copper foiling technique was born. Tiffany also very quick to follow in La Farge's steps and use opalescent glass in his works, which La Farge had patented by then. La Farge and Tiffany got along handsomely, and Tiffany to some extent even viewed La Farge as his mentor, until La Farge felt that Tiffany was encroaching on his patent and even contemplated filing a lawsuit against him. There is no official records of the lawsuit, but that was the end of that friendship I would imagine.

Look at the use of opalescent glass in this close up. Another remarkable thing that can be observed in La Farge windows is layering of two pieces of glass on top of one another. It is pretty widely used now, but back then it was a very novel idea. Not only does it add depth to the image, but I think another added benefit is that, one can use an opalescent glass that would otherwise strike in the kiln. For those stained glass enthusiast who do not paint - some types of glass, especially opalescents, but some cathedrals too, tend to change color and even become completely opal when heated to a high temperature, therefore rendering them impossible to use for painting. La Farge likely went around that issue by painting on a clear or tinted transparent glass and layering it on top of the opalescent color - problem solved!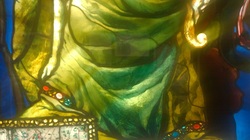 Another thing that struck me as remarkable is the use of anything other than black/brown paint to render shadow, which had been done primarily up until then. La Farge was a painter long before he was a stained glass maker, and he treated glass much like he would a canvas, which lead to remarkably vivid images with great color variation within one piece of glass, previously unseen. Look at the use of green and blue paint to render folds of fabric in this close up. Spectacular!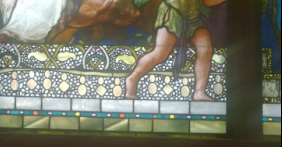 However, as beautiful as the windows are, they are not without their flaws. It is quite apparent that stained glass was not originally La Farge's craft as you can see some design decisions in his panels that are not wise. Like long thin, spindly lines that go on forever and are the prime candidates for cracks the first time the window moves, like pictured in this close up. And the window in question that I viewed very closely was absolutely full of these kind of design "flaws", and not surprisingly riddled with cracks. La Farge clearly was perfectly content sacrificing structural stability for looks as there are very few pieces of rebar in the panel. And those that ARE there are not straight running from frame to frame, but bent to follow the lines of the pattern. Though imperceptible to the eye, I am not entirely sure they are highly effective in keeping the window from sagging. Should we blame this great artist for his attempt for visual perfection? I would say not. I feel that we ALL made design mistakes in our respective window making efforts, due to the complexities of the patterns we used. Some of them work, and some of them don't and we learn from the mistakes. I personally own a 4X3'' piece made using copper foil only and not one inch of reinforcement in it. I made it back when I did not know any better, when I was but a student myself. Lo and behold, YEARS later, there is no sign of sagging, or cracking anywhere whatsoever. That was probably just blind luck. The design was complex enough with enough lines intersecting to create solid reinforcement on its own and keep the window in its plane. So I definitely do NOT suggest you forego all reinforcement in search of total visual perfection.

If you cannot stand rebar as La Farge clearly did, we have so much more in our arsenal now, such as restrip that can be hidden inside the seams, for example. Although I personally trust the rebar a lot more for larger projects. If incorporated in the design properly, the eye will always miss the unsightly rebar when looking at the finished window. Most of the time leaving it out is just not worth the risk of having the window buckle under its own weight in 5 years. Vanderbilt may have had the money to shell out for such repairs, but our regular consumer usually does not. And in any case, if it starts moving and cracking too soon, I would feel compelled to fix it for free, because it would have been my studio's responsibility to produce a stable product. But geniuses like La Farge are exempt from such judgment, of course!

In 1992 two NJ artists were entrusted with restoring 8 of the La Farge windows, which included fixing the cracks and flattening the bowed part. They too complained of the difficulty to work with those windows due to lack of appropriate support, tiny pieces and thin lead came and the fact that these windows reside in hot NC sun now, which does a number on soft lead came. The lightly reinforced windows did alright in NY where they were originally installed, but once in the South, started bowing almost immediately. So as a result, part of the restoration project was installation of thermal insulation units that would protect the windows from the NC heat, eliminating the threat of lead getting soft and bowing again in the near future.

So I think I will continue to reinforce my windows within an inch of their life till I achieve La Farge's level of genius. :) I think ,however, that the ever so slightly flawed perfection of these windows teach us one important lesson - do not be afraid to innovate, try new things, new techniques. Innovation is never nice and tidy, there are always mistakes and things to improve on, but there is no reason not strive to achieve something greater than has been done before! You may be the new La Farge, or Tiffany! So create on!!!