About the Artist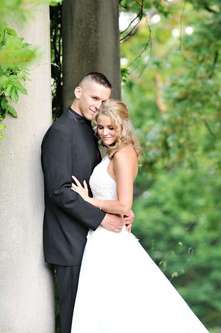 Yekaterina and Eric
My name is Ekaterina (Yekaterina) Reier and I am Russian-born and raised. I immigrated to the United States in 2003 at the age of 19 and stained glass art was nowhere in my plans. I got right down to chasing my American Dream, which at that time meant - working hard and making enough money to stay afloat. That was a notch better than in Russia. There you just worked hard...
I learned to make stained glass as a way to relieve stress at work and to realize my longing to make something beautiful with my own hands. Fortunately, after years of working odd jobs and then in high-stress project management positions, my beloved husband, who also happens to be my biggest fan suggested that I may be better off doing what I loved - Stained Glass which at that time was just a hobby.
Being an Army Lieutenant, his time at home was way too valuable to spend it with a wife that checked her emails at 10 PM at night and was always brooding about what the next day at work was going to bring. This is the reason this page would have been incomplete without his photo. Without his love, care and support, The Last Unicorn Studio would never have come to be. He is my husband, my friend and my inspiration. He helped me find myself and gave me confidence to do the job that I loved, so now we are both doing what we feel we were called to do. For me, it is creating stained glass art! Years later, little did he know, that my studio will be so successful and in demand, that I will still be checking my emails at all hours of day and night and work after hours! But it is not work, if you are love it, right?

After utilizing the Tiffany technique for a couple of years, I realized that I wished to create more complex and realistic images in glass. Painting on glass would help with that goal. Unfortunately glass painting is a fairly rare art, it has not changed much since the 12th century, which made me want to learn it even more. I was fortunate enough to impress American Glass Guild and Stained Glass Association of America Scholarship committees with my work to be granted both scholarships several years in a row. Those grants allowed me to attend some intensive training with several well-known stained glass painters, such as Ken Leap, Kathy Jordan and Victoria Mallard. Now painting is one of my favorite and most utilized techniques, however most of my work is a combination of several techniques, helping me achieve the highest visual impact.

The connections established through the Glass Guild and Stained Glass Assn also allow me to produce projects of any complexity, because I now partner with several other artists when needed on larger and more intricate projects, primarily for painted window design.


Why THE LAST UNICORN? I get asked this question a lot actually, and I guess it is time to give the "official answer". To me, a unicorn is a symbol of something fantastic, beautiful, pure and at the same time very elusive and rare. Something that this world desperately lacks at times. It is a piece of this beauty and other-worldly fantasy that I try to bring into people's homes with each window I create. So others can have a small fairy tale nook in their house. Everyone needs a place like this - I spend quite a bit of my time there :). It is a place with enchanted forests, crystal-clear streams, unicorns and fairies. A world with no trouble, tears or fear, and where my husband does not have to deploy to Afghanistan... This is what the UNICORN stands for - the hope that such place exists, maybe in an alternate universe, but you can catch a glimpse of it sometimes - in your daydreams. And the LAST is because such beauty and hope is so rare nowadays, and it should be carefully protected and nurtured, because one day it may disappear altogether. My art is just one way to preserve it.


---